Mead (Lawrence) Farm |
Lawrence County

|

Washington Township
Phase #1

Phase #2

Phase #3
Phase #2
Phase #3
Phase 1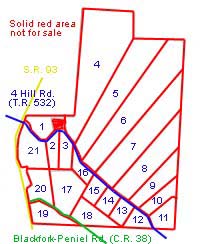 | Lot # | Acreage | Price |
| --- | --- | --- |
| 16 | 6.046 | Sold |
---
Phase 2
| Lot # | Acreage | Price |
| --- | --- | --- |
| 27 | 8.219 | Sold |
| 28 | 9.244 | Sold |
| 38 | 9.015 | Sold |
| 39 | 8.271 | Sold |
---
Phase 3
| Lot # | Acreage | Price |
| --- | --- | --- |
| 51 | 7.028 | Sold |
| 52 | 7.106 | Sold |
---
Farm Facts
Lots for building, hunting & recreation
Lots of ponds/woods
County water available on some lots
Oak Hill Schools in Jackson County
Many lots adjoin Wayne National Forest or The Nature Conservancy
Grantor is excepting and reserving all the oil & gas rights underlying the above subject property.
Directions
(From the Jackson-Lawrence County Line)
Go south on S.R. 93 for .6 miles
Turn left onto T.R. 532 (4 Hill Rd.)
This will be lots 1 thru 16
Return to S.R. 93 & go south another .4 mile
Turn left onto C.R. 38 (Blackford-Peniel Rd)
This will be lots 17 thru 20
Go south on S.R. 93 for .6 miles
Turn right onto C.R. 33 (Irish Hollow Road)
There will be a white church at the entrance
Follow the road bearing left
Lot 22 will be right in front of you
Just past Lot 41 on your left is Cemetery Rd.
Lots 44-47, 49 & 52 come off Cemetery Rd.
Key to the gate on the back of the gate sign
Please return for others to use
Lots on Irish Hollow go beyond the last house
on the left which is still part of the original road
White pvc pipes with pink ribbons mark lots
Watch for red & white Bruner Land Co. signs.
View on Google Maps